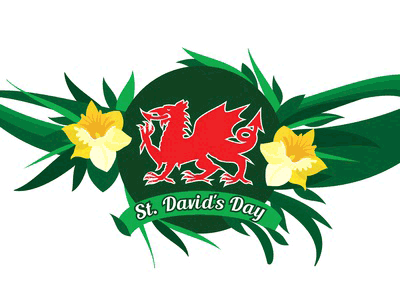 Cardiff St David's Day Parade 2017
March 1st 2017 sees the return of Cardiff's dazzling St David's Day Parade. With the coming of spring and the daffodils now in full bloom, once again the streets of the capital will be filled with the sights and sounds of this remarkable spectacle of Welsh tradition and culture. St David's Day has been celebrated in Wales for centuries, commemorating the death of St David in 601. Now, more than 900 years after St David was announced as a saint, this annual celebration continues to be a huge part of the Welsh national identity. The flag of St David is a yellow cross on a black background, so expect to see these throughout the parade alongside the Red Dragon, Wale's national flag.This year, the parade will contain all the usual theatrical groups, banners, costumes and music that bring the city centre to life year after year. Starting outside City Hall at 12.30pm, the parade will be kept away from any traffic by keeping to the pedestrian streets of the city. From City Hall, the procession will make its way along Queen Street until it reaches Capitol Shopping Centre. Then, turning back towards Cardiff Castle, the parade makes its way Westwards along Queen Street before heading South along Working Street to the finishing point outside St David's Hall, arriving at 1.15pm. With the parade assembled at the finish, the Welsh National Anthem, Hen Wlad Fy Nhadau, will be sung with pride to round off the occasion. Musicians and other groups must register in advance if they want to be a part of the parade, spectators just need to turn up on the day to enjoy the sight of the black and yellow flags fluttering above the carnival.
The day will be rounded off with a concert of Welsh classics as the BBC National Orchestra and Chorus of Wales are united in St David's Hall with soprano Rebecca Evans and acclaimed tenor Joshua Mills. The orchestra will be conducted by Gareth Jones and features winner of the Urdd National Eisteddfod's composer medal, Charlie Lovell Jones. Violinist Charlie is one of the brightest young stars in British music and looks certain to light up the stage when he performs in this concert of heart swelling, patriotic Welsh music.
St David's Day 2017 promises once again to fill the city with performance, music and even a few dragons to bring a touch of fiery tradition to Central Cardiff. What more could you want from Wednesday afternoon in March?