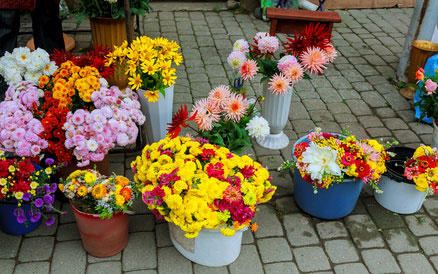 Spring has finally sprung, so it's time to say goodbye to the harsh winter weather and celebrate the beauty of the new season, at the Cardiff RHS Spring Flower Show.
There really is nothing like the Spring season, whether you are an avid gardener yourself, or you just enjoy the wonderful and colourful display that nature puts on for us. Dark dreary days gradually get lighter and everywhere you look, there are signs of new life, as flowers start to slowly creep out of their winter hibernation. The RHS flower shows are renowned for their colour, diversity and quality, so if you haven't had the pleasure of visiting yet and happen to live near Cardiff, you'll be pleased to hear that tickets are on sale now.
These popular shows are a true treat for all the senses and there really is no better place to treat yourself and your garden. Enjoy browsing through a whole host of attractive and stunning plants, discover new varieties and talk to the experts on hand, for any help and advice you may need. But as wonderful as the array of plants and flowers are, the fun doesn't stop there, as there are plenty more attractions and interesting additions to the show.
Another feature and main attraction of the event, is the sumptuous farmers market. Once you've treated your eyes and nose to the sights and scents of the flora and fauna, why not treat your tastebuds with a selection of artisan, award-winning foods from local producers. From a choice of flavoured olives and fresh bread, to jams, pickles and much more, it really is the perfect way to extend the pleasure of the visit, long after you have left. There is even an on-site cafe area that allows you to rest your feet and take a well-earned break. Relax and indulge yourself with a delicious selection of freshly baked pizzas, seafood and sweet treats…there is even champagne on hand if you are in the mood for celebrating!
Make the most of the shopping experience on-site, by taking a look at the large variety of trade stands and crafts on display before you go. If you've ever been stuck for that perfect gift idea, you might just find your answer here, with a selection of creative and unusual ideas. With over one hundred hand-picked stalls, offering goods for both the home and the garden, there really is something to please everyone.
With beautifully designed show gardens, interactive talks from gardening experts and celebrities and brand new gardening goods and equipment for sale, it makes for a busy, fun-packed day out. Need to keep little ones occupied? Not to worry as there are a selection of kids activities, such as fossil hunting, tree climbing and den building, as well as a schools competition and various bug-related activities on hand too.
The show is on from the 7th – 9th April and is set in the grounds of Bute Park, an easily accessible venue for all forms of transport. There is paid parking available nearby and local bus routes are conveniently on hand. Cardiff central train station is a mere 15 minute walk away and if you're feeling adventurous, you could even take the waterbus as a special treat!
Celebrate spring and enjoy the first major RHS flower show of the year. Just order your tickets in advance and enjoy not only the visit itself but an added discount too. Gift membership is also available from the main website, this entitles the holder to many more enjoyable days out, including members only days at the flower shows.