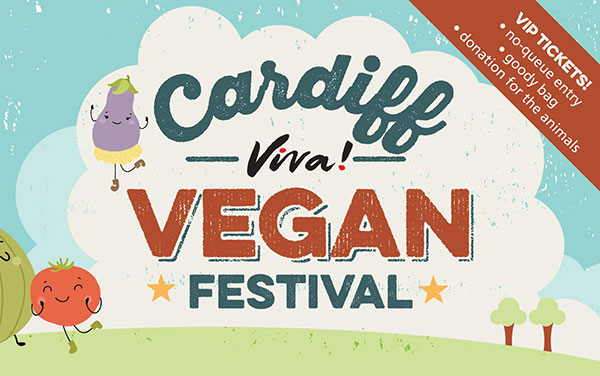 The Cardiff Viva! Vegan Festival
I'm so excited to announce that the Viva! Vegan Festival is coming to Cardiff! It's scheduled for Saturday, February 4th at City Hall between 10:30 and and 17:00. Tickets will cost just £2 and can be purchased at the event. However, Viva! is also offering VIP tickets which will allow you to skip the queue, as well as receive a free bag full of vegan goodies. Plus those under 16 can get in to the festival for free!
About Viva! Vegan Festivals
Viva! festivals are held at locations all across the UK, and focus on veganism lifestyle, animal welfare, health, recipes, and helping the environment. Everyone is welcome, whether you're a vegan or vegetarian, someone trying to reduce their meat consumption, or just a meat-eater who wants to learn more about the vegan lifestyle. Viva!'s aim is to increase the amount of people giving up meat and animal products, and reduce the suffering of animals as much as possible.
Viva! was founded as a charity in 1994, and the first Viva event was held in 2004 (previously operated under the name Incredible Veggie Roadshows.) Since then, their events have been attended by over 80,000 people. They estimate that their impact has saved the lives of millions of animals.
What's To See And Do?
Cardiff's Viva! event will offer a wide variety of things to see and do. Here is just a sample:
Receive nutrition advice one-to-one from an expert
Get tons of free recipes and information handouts
Cooking demonstrations and informative workshops
Shop from a huge variety of cruelty-free wallets, cosmetics, and clothing. As well as plenty of books, bags, and even toys available!
There will be a number of businesses at the festival, occupying more than 80 stalls between the two floors of the event. Some of the businesses that will have stalls at the festival include:
– Greenpeace
– Vegan Pizza Co.
– Iuvo Skincare
– Vegan Life Magazine
– Animal Allies Clothing
– The Vegan Cakery
– Go With The Fro
– Avant-Garde Vegan
– Happily Ever After Dog Rescue
– BeWilder Nature Photography
– Acorn Vegetarian Kitchen
– La Bonne Crepe
There will be a wide range of different international vegan dishes available at the event, both in takeaway format, as well as ready meals to prepare in a pinch at home. Some of these snacks will even be free! Did we mention there will be chocolate?
So come along to the Cardiff Viva! Vegan Festival on February 4th and take part in all of these great activities, grab a bite to eat, and have some fun. Plus you can learn how to get active in the vegan community, or at least see what it's all about.
Hope to see you there!